Imperfection is beauty, madness is genius
---
Jajaa, okej.
Precis som
alla
andra,
ä
lskar vi den j
ä
vla
Dip-Dye-trenden
.
Men ser

iö

st.
It's so DAMN hot!!!
Nu e de fanimej dags att sl

ä

nga i lite f

ä

rg i h

å

ret. och d

ä

r med basta!
FREAKY FRIDAY
LOVERRS!
---
---
Classy Trashy overdozin'
---
HOLA!
Happy Tuesday på er!!!
H har ju glömt att visa lite nytt som råkade hänga med hem. Oh. WELL.
Spending money is therapy.
Följ på Instagram: @heavensfirst
XO//
---
Go west, young cowgirl.
---

Today's Inspiration:


WILDFOX COUTURE
'Inspired by sleepovers, fairytales, dreams, vintage t-shirts, and friendship, Wildfox is for the dreamers, for the lovers, for barefoot explorers, for late night chocolate eaters. It is for people everywhere who believe in love and believe in themselves.'

LOVE
---
---
Now you're messin' with a son of a Bitch
Jaha, pay-day igår så självklart får man unna sig lite nytt smaskens!
Strawberries & Milkshake Lipgloss
Fortfarande
shoppingsugen.
NOT.GOOD.
Kan sluta i katastrof.
Anyways, snart ere heeeeeelg!!!
HA EN FABULOUS TORSDAG PEEPS!
♥

---
where everything was as fresh as the bright blue sky
(precis som alla andra)
Tog
S
idag fram sin
sax & syl

å

da
f
ö
r att leka
TAILOR.
Gick ju skitbra.
BEFORE. En Guns top och ett par uber-gamla Crocker jeans fick falla offer...
AND AFTER. Much better, right??!
Som ny.
Ha en grym
SUNDAY
folks!
---
It's a mystery - why I can't stop thinking of you
Kvällens party nails!
LACK: 'Mystery' by O.P.I
HAVE A FREAKY FRIDAY!!!
♥

---
EYES WIDE OPEN
H tänkte dela med sig av sin favourite grej för tillfället:
KVD's Tattoo chronicles candelabra edition - eyeshadow palette!
Inköptes på Sephora innan jul och har använts flitigt!!
Alla skuggor har sjukt bra pigment, en färg för varje tillfälle eller efter humör -
SIMPLY PURE LÖVE.
"First class" + "Camila" + "Blackhearts" + "WTF"
"Holy Bible" + "Nerd" + "Night of the hunter"
THANX KATTEN!
---
All i can do is be me
today's inspiration:

BLACK & WHITE
---
I'll fight until the end to escape from the true false world.
Dagens ink
ö
p from
Victoria's Secret:
TRUE ESCAPE fragrance mist - solar jasmine & pomelo
BEAUTY RUSH lip gloss - sugar high
Spenderade s
ä
kert
ö

ver
en timma inne p
å
VS
idag. Ville fan k
ö
pa ALLT i hela butiken.
Well well...

LATER CUPCAKES!
//
---
SMACK MY PONY.
H's new NAILS
Inspiration:
---
SKIN & BONES
Vi ville bara dela med oss lite av de mest AWESOME produkterna som finns.
Try it!!
Du hittar dem till exempel HÄR.
---
FAMILIAR TASTE OF POISON
Inom kort så kommer vi köra en tävling här i bloggen där ni kan vinna GRYMMA smycken från
Stay tuned peeps, detta får ni inte missa!!!!
---
The Lady is a tramp.
Okey, ni readers vet ju säkert vid det här laget att
Sin Sisters
älskar korsetter, lack, läder, costumes & allt annat smaskigt i underklädesväg. DÄRFÖR så tänkte vi nu tipsa er om en helt
fabulous
sida som heter
TOPLADY
!!
(fördel om ni ska beställa att ni bor i Svedala)
Dom har helt sjuka priser, och då menar vi fan SJUKA.
For example - alla korsetter/costumes nedan ligger på ca 250 SEK el strax över, i normala fall så får du punga ut med en sisådär 700 - 1000 spänn!
Kvalitén är skitbra och leveranstiden kort, soo what'ya waiting for???
CLICK CLICK CLICKA HEEEM!
(använd bannern längst ner till vänster på vår sida)
PEACE//
---
LOVE LIFE.
H nyss hemkommen från Tattoostudion med sore knuckles.
Och det var välbehövligt  -  fan alldeles för längesen man fick smaka på lite nål!!
in action w bloody knuckles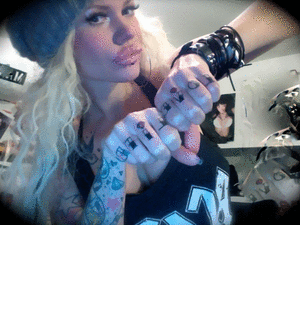 kommer bättre pics när de läkt färdigt
PEACE OUT//
---
NEVER ENOUGH
Wooops. Lite mera nytt.
'Gimme life, for the takin'
Gimme love, 'til I'm shakin'
Gimme rules, just for breakin'
Because it's never enough, never enough, never enough!'

HA EN LÖVELY LÖRDAG PEOPLE!!!!
xo/
---
Cause I'm back on the track And I'm leadin' the pack
New in H's garderob:
Lite oväntat att hitta denna (PLUS en massa andra snajsiga merch tishor & linnen) på gamla jobbet!
När vi ändå snackar svart sååå..
New nails - pure black, antracit grey glitter & skulls
SVART ÄR DET NYA SVARTA.
Trevlig lill-lördag på er!!!
---
DETAILS.
xoxo
---
POETRY IN INK
maaaahh.
Det suger i
TATUERINGSTARMEN!
Have an
AWESOME FRIDAY FOLKS!
xoxo
---
Last blues for bloody knuckles
YEEEEES!!
Sometimes you just gotta love Groupon.
195 pix för en ny ink-session, jo man tackar!
DEAR KNUCKLE TATTOOS SEE U SOON ♥
---
you're my doll rock'n'roll, feel the glamour in pink
Senaste nytt:
V
å
r gamla favorit
Barbie
har g
å
tt
å
blivit PUNKROCKARE!
Japp it's true,
Mattel
(barbies grundare) har tillsammans med
tokidoki
designat en vr
å
lhet, BAD-ASS Barbie doll. Vi s
ä
ger bara:
Too bad we're too old for toys.
Barbie's got a bad new look. Brought to you by the Italian-based, Japanese-inspired brand Tokidoki, this new edgy Barbie has a chin-length pink bob, punk-style clothing and tattoos running down her arm and around her collarbone.

the cute characters of Barbie dresses up with some rocker accessories just like what you often see on glamour metal band in 1990's.
Unsurprisingly, there are parents out there who are unhappy with Barbie's new look. -"I think it is horrible and sends the wrong message to young people. In no way should a tattoo be honored. Encouraging children that tattoos are cool is wrong, wrong, wrong!"

Sure, parents, pretend that Barbie's SCARILY-skinny waist and pin-up proportions aren't sending a BAD message. Focus on the perfectly legal and low-risk tattoos instead.
HELT SERIÖST. Vi tycker synd om dessa föräldrars barn.
HAPPY FRIDAY FOLKS!!
xoxo
---